South Africa embodies the mystique of Nature at her best, combined with comfort and style, and a cultural mix found nowhere else on the African continent. The major cities of Johannesburg, Durban and Capetown provide anchors to the game reserves, the winelands and pristine habitats. Much of the flora and fauna is found nowhere else in the world.

Pretoria (the eastern capital) is only an hour from JoÕburg and is a must for lovers of architecture and floral landscapes. Another hour away is the fabled Sun City Resort, holding great appeal for those with a zest for golf, gambling or gourmet tastes. It also borders on Pilanesberg Game Park.

Durban has long been a favorite with beachgoers and sunseekers. Facing the Indian Ocean, it reflects the strong influence of the Indian sub-continent, and one cannot leave without sampling a few dishes of the local cuisine

Capetown (the western capital) is one of the worldÕs truly multicultural cities. Set against the soaring backdrop of Table Mountain, the mix of African, Malay and Dutch influences contribute to an exquisite blend of lively nightlife, superior cuisine, and classic architecture. During a standard three- to four-day stay, visitors usually spend a day exploring the city, a day in the wine country, and a day touring the Cape peninsula.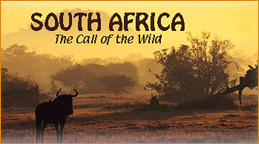 By Bob Burch